YouTube: CBC News: Green Party Leadership | Special Coverage | YouTube">CBC News: Green Party Leadership | Special Coverage
Voting in the Green Party of Canada 2020 leadership contest ends today at 3:30 pm Pacific Time, here in Ontario at 6 pm Eastern Time, or at 7pm Atlantic Time.
If you haven't already cast your ballot, don't delay!
Members already have received their ballots.  If you haven't, contact the party by email at elections@greenparty.ca or call 1-866-868-3447 for assistance.  It would be terrible to miss your chance to have a say in what candidate David Merner correctly describes as the most important decision the Green Party of Canada has made in 13 years.
Every green member should vote for what you want.  We have a great slate of candidates, and I recommend ranking every candidate to ensure your vote counts.
JOIN US LIVE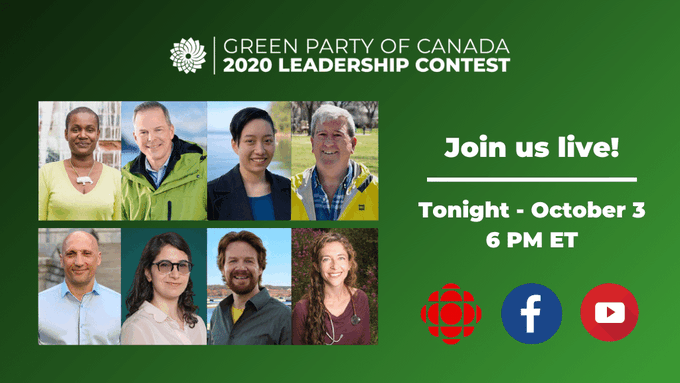 The Green Party leader will be chosen after the ballots are counted tonight (October 3rd, 2020).
All Leadership contestants will gather in Ottawa for the results, and members are invited to join in virtually through the live broadcast on

Youtube
https://www.youtube.com/c/canadiangreenparty

Facebook
https://www.facebook.com/GreenPartyofCanada

CBC news on TV or Online https://www.cbc.ca/news
CBC Gem https://gem.cbc.ca/
CBC News App Apple Store or Google Play
I can't improve on what Paul Manly wrote:
"I made a pledge to remain neutral during this leadership contest and I am sticking to that commitment. There are some brilliant candidates in this contest to choose from. The membership is going to decide on our new leader and I will respect that choice. I pledge to work with whoever becomes the new leader.

Despite any differences we have, it is the things we agree on as Greens that bind us together. We are a party that puts people and the planet ahead of corporate profits. We believe in service above self. We know what we want for our children and grandchildren, and we want those things for all humankind.

I am looking forward to working with the new leader of the Green Party of Canada. I'm grateful to the leadership candidates for stepping up and giving their all to this campaign."
Don't delay.  VOTE.