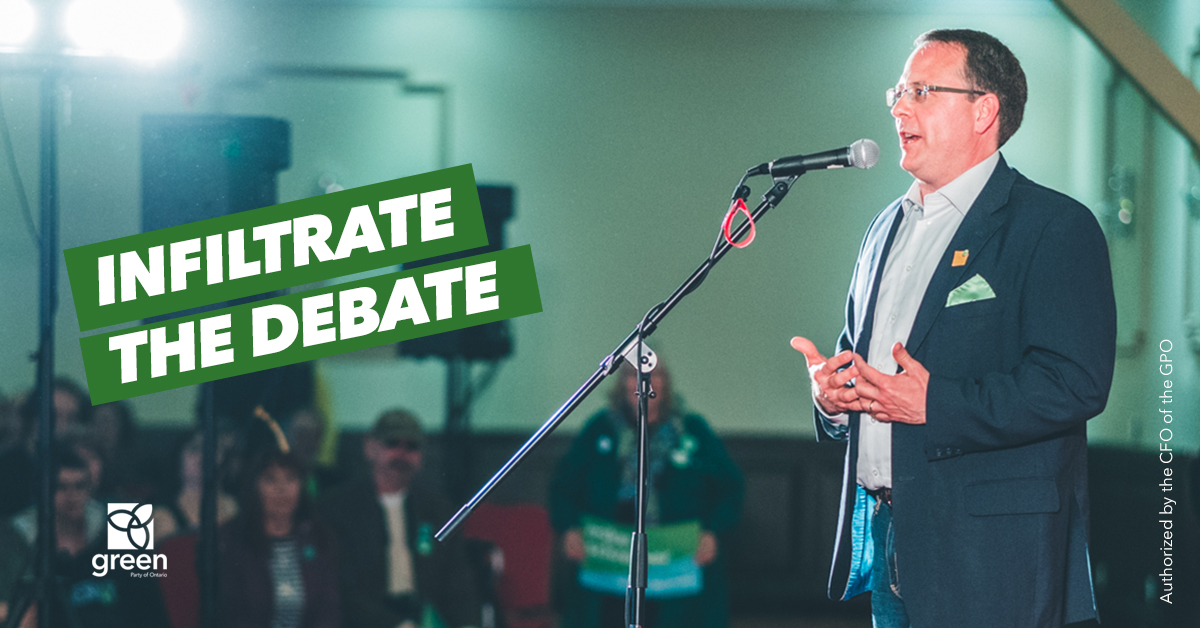 Hi everyone! Want to see Mike Schreiner participate in the Leaders Debate tomorrow night? Join the Waterloo Region Greens at the Campaign Office for a watching party!
Despite our best efforts, the unelected and unaccountable media consortium has continued with their decision to exclude the Greens from the televised Leaders Debates.
Even though we are silenced, we must stay strong. We will keep pushing to get our Green voices heard, in all the ways we can.
On Sunday, Mike Schreiner will 'infiltrate the debate' by hosting a viewing party and doing a live commentary of the televised Leaders Debate in his home riding of Guelph. The event will be livestreamed, so we hope you can all tune in to hear the real solutions Greens want to provide to the province.
Join us at the WR Greens campaign office, perhaps bring a snack to share, and we'll watch the Facebook live stream.
When: Sunday, May 27, 6:00pm – 8:00pm
Where: WR Greens Campaign Office, 6 Duke Street East, Kitchener Map
Facebook Live: Mike Schreiner: I'll be doing a live commentary of the (unfair) Leaders Debate.