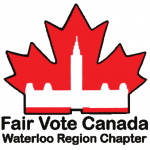 On Saturday, 3 October 2015 the Fair Vote Canada Waterloo Region Chapter held an all-candidates meeting on Electoral Reform at Forest Heights Library. Here's a 7 minute excerpt from that meeting in which I explain why Canada should adopt Proportional representation!
YouTube: Bob Jonkman On Proportional Representation
Fair Vote Canada has assembled a list of Candidates that support Proportional Representation.
At 17 October 2015 the Canadian parties whose policy does not support Proportional Representation include
Conservative Party of Canada
Liberal Party of Canada
The three parties actively campaigning on implementing Proportional Representation are:
The Green Party of Canada
The NDP (New Democratic Party of Canada)
The Pirate Party of Canada
As a matter of course, most (if not all) smaller parties support Proportional Representation because it would give them a better chance of achieving representation in Parliament.
Disclaimer: I'm also one of the Co-Chairs on the Executive Board of the Fair Vote Canada Waterloo Region Chapter.
–Bob.