Hello Kitchener–Conestoga! The campaign period for the 2018 Ontario provincial election has begun, and things are busy already! If you'd like to volunteer to help out with setting up our new campaign office, putting up roadside signs, or canvassing door-to-door you can sign up on the GPO web site or send an e-mail to the WRGreens Volunteer Coordinators at volunteer@wrgreens.ca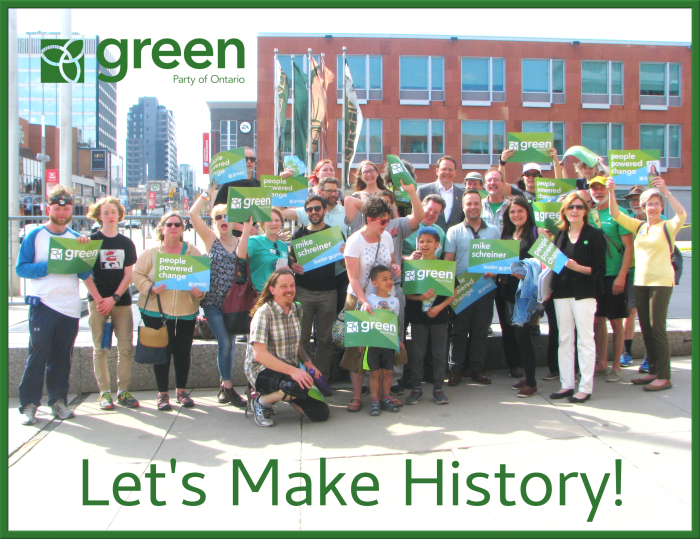 I'll be at the WRGreens campaign office at 6 Duke Street East in Kitchener Map on Thursday morning to drop off some stuff: Whiteboard, wall calendar, two tables with tablecloths, mops and pails. I may pick up some dishsoap and vinegar, my universal eco-cleaning agents of choice.
Then going to the printer to pick up the KitCon signs (they weren't ready Wednesday), and back to the office to drop them off.
I'll be away for the afternoon, but others will be there all day long setting up.
On Thursday evening (4:00pm to 6:30pm) is the Together In Education event at Conestoga Place, 110 Manitou Drive, Kitchener. Map
On the way back home we'll stop by the campaign office again to pick up some signs and distribute them between Breslau and Elmira (the east side of the riding)
On Friday I'll go back to the printer to pick up the remaining KitCon signs, put some up in the south-west section of the riding (Wilmot, Kitchener), then return to the campaign office to help clean up and set up the office. Late afternoon putting up the remainder of the signs in the north part of the riding (Woolwich), then some canvassing in Elmira.
Drop by the office if you have some free time! We'll hand you a paint brush (green paint, of course) so you'll feel right at home.
–Bob.